As a breeder I can say that I am one of the most approachable, well in fact most of my families and friends do easily acquire my birds for free or even some people I don't even know off for the simple reason that I see myself to them, while today I am focused on supporting small time breeders. As a father, I am very strict with my children since I don't want them to grow lazy but ultimately I hope I can pass on my cockfighting legacy to one of them since this industry moved my life in a good way and I believe the same thing for them.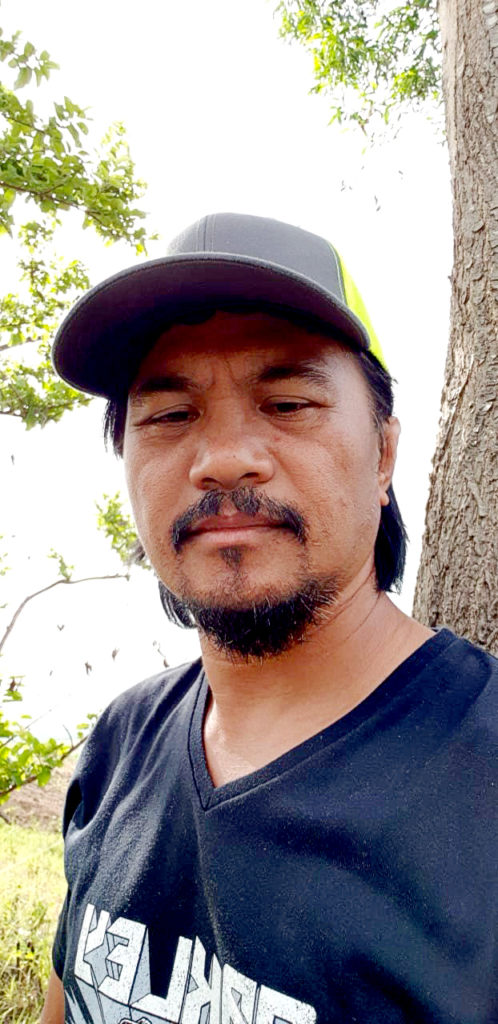 Neroe Lee: Tell us a brief story about your life back then when you were just starting?
Bernie Tacoy: Actually, I started very early in cockfighting but it was my Hennies 1st that curved a name for me. Your Bernie Tacoy back then was a simple "kicker" or simply the guy who does all the hard work from cleaning bird droppings, feeding, untying the gaffs and all related to it. I have endured everything I could for the reason I want to learn and I have persevered until I have reached the pinnacle of my career.
"With my intentions of unending learning I have made it a point to read cockfighting materials like 'grit and steel' and from there I have learned about line breeding."
Neroe Lee: Any memorable moments you can recall?
Bernie Tacoy: One of the most memorable vivid moments in my life is when I and my wife used to sleep in our modest "Bahay Kubo" (a small house) with the stars panoramic view due to our unfinished roof but who would have thought that under our house lies a pair of Gold Mine. Beneath us was a gold pullet and an imported winner, Johnnie Jumper Kelso, that later on produced offspring's that garnered 13 consecutive wins under two breeding batches and from there The Legend of Ormoc Gold was born!
Neroe Lee: Your story about the origins of Ormoc Gold is already the stuff of Bernie Tacoy legend but would you tell us again in your vivid memory of how you happen to have this "gold mine".?
Bernie Tacoy: After I graduated college as a Mechanical Engineer I went home to my uncle to basically work with him in his business. My uncle luckily happens to be a passionate Sabungero so every Sunday we go together to fight in our local cockpit and I was his 'kicker'. One day a friend of him from Cebu who usually competes in derbies brought a Gold rooster locally known as Caviara that later on won at "Valencia Sports Center'' in stunning fashion to the crowd's complete amazement. After winning my uncle requested that the winning rooster should stay but his friend refused and instead he offered to send pullets of the same kind and pledge to give the winning rooster if he wins again. Two Gold pullets were sent and I can vividly recall they were straight comb, small birds and their heads with a dash of black colour while their legs slightly yellow-green looking but according to the handler Mr.Noel Rosco, he suggests not to breed them since he thinks they are native or of low classes. One Sunday after all the birds fought to lose that day they come home looking for some appetizer to go along with some cold beer and decided that those two Gold pullets are to be slaughtered, so I made a bargain to replace them and instantaneously went home to fetch some replacement but I have to climb a tree to get them. When I came back one was already dressed and the other one about to be slaughtered with neck fully prepared but luckily my future was then saved. At that time my uncle was able to acquire some imported birds and one of those is a pea-comb white legged Johnny Jumper Kelso who won impressively when we fought him but sustained an injury that left him unable to fight again so I went home nurse the bird and after kept him under my house together with the lone Gold hen. In two batches the pair had 14 male offspring's with 13 of them winning and only a single lost, from here I say the rest was history.
Stay humble and never forget where you came from, do your best in any endeavour you are up too because the road is mostly full of potholes until you reach the destination you are looking for.
Neroe Lee: As a Thunderbird national endorser and frankly a rock star in sabong what are the challenges you face day by day with the stardom attach to your name?
Bernie Tacoy: The challenge is for me to maintain my Thunderbird endorsement status and keep my competitiveness at the highest level.
Neroe Lee: Your Ormoc gold bloodline now can be considered as an institution itself what are the ways you do to make sure they perform as advertised?
Bernie Tacoy: With my intentions of unending learning I have made it a point to read cockfighting materials like 'grit and steel' and from there I have learned about line breeding, so what I did is to introduce the most capable male progeny to his mother and chose the best pullet to breed back to his father until I did the method numerous times before breeding them into each other creating sub-families that until today produces vigorous results for me.
Neroe Lee: You are widely known in the industry as a "self-made" man what are the reasons you made it this far and what could we learn from your story?
Bernie Tacoy: Stay humble and never forget where you came from, do your best in any endeavour you are up too because the road is mostly full of potholes until you reach the destination you are looking for.
Neroe Lee: How do you manage your farm and gamefowl effectively?
Bernie Tacoy: I have returned to my old winning ways and again became a hands-on breeder since I have realized that no one can surpass the care of an owner or should I say finding the right person with care and affection equal to mine is very hard.
Neroe Lee: What supplements or enhancers do you use during the keep?
Bernie Tacoy: I use Bexan twice a month on my corded birds while in conditioning I don't use too much since I believe in a natural method so I just give them b12 injection every 10 days and 9 days before when the fight nears while the last b12 dosage usually given is 3 days before the fight.
Neroe Lee: What were your biggest challenges dealing with this farm and fowls?
Bernie Tacoy: In 2013 my Hometown was hit hard by Typhoon Hainan or infamously known as Yolanda. It was the most painful part of my career since I have kept more than 800 aces in one of my farms with most turned out as casualties while around the same quantity were decimated by the storm in my main farm. At that point I only have some of my personal lines safe under my basement but for the 1st time it came to my mind to stop breeding since I was really devastated so I decided to fight all that is left but to my surprise I was winning almost all derbies we have joined so it was clear to me that my affair with Sabong is irrevocable.
Neroe Lee: How systematic are you when it comes to recording?
Bernie Tacoy: Today again I am hands-on inbreeding so I make sure all is done the right way down to every little detail. I am very strict in recording and I don't take chances since it may break my lines without proper recording, I mark all my purebreds with single mark and all my markings are properly recorded in a book so I can have them trace easily.
Neroe Lee: As an innovator aren't you tempted to venture in more breeding experiments?
Bernie Tacoy: I must admit I am fond of it since I use to cross my birds in 3-way crosses and from there I chose which specimen carries the same style of my signature lines. My Ormoc Golds are very versatile they do not resist infusion hence I am very successful in producing crosses.
In my own opinion, there is a big advantage gaffing your own bird much more when you are the one who bets because you know the fighting style of your bird and every each gaffer has their own preference
Neroe Lee: How you train your rooster on a daily basis?
Bernie Tacoy: I use the rotation method most of the time and sparring sessions.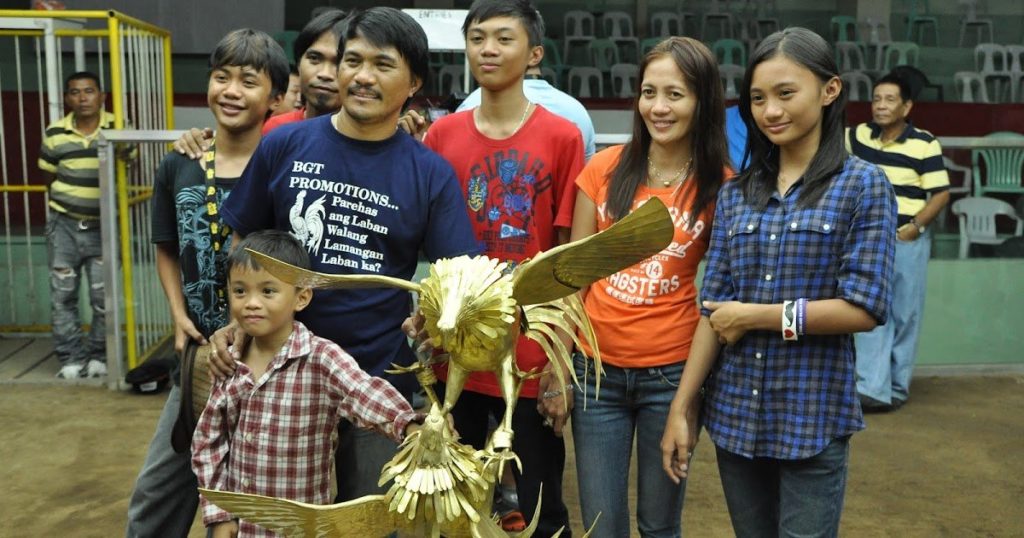 Neroe Lee: As a gaffer, yourself can you discuss advantages having to tie your own birds?
Bernie Tacoy: Going back when I was just a 'kicker' (helper) with my uncle's team I was assigned to do everything and one of them is to help hold the birds during gaffing and untie them after the fight. Before I became a breeder I was actually a gaffer and I have learned it painstakingly 1st by counting how many times the gaffer has tied the ropes and how he basically did the art, then eventually I have learned to become a decent gaffer. In my own opinion there is a big advantage gaffing your own bird much more when you are the one who bets because you know the fighting style of your bird and every each gaffer has their own preference i.e. when a bird is a bottom fighter and has a short shank I usually put a regular sized knife or a little bit shorter than the usual but when birds is high flyer it should be regular or slightly longer.
Neroe Lee: What is the greatest challenge of a breeder?
Bernie Tacoy: The greatest challenge is how to maintain your lines for the longest period of time and at the same time winning in high percentage.
Neroe Lee: Who influenced you to become a competitive individual in this industry?
Bernie Tacoy: My grandfather who used to bring me in "Tupadas", I believe my cocking intuition matured the earliest having raised around a cocking family.
Neroe Lee: Having been infamously a victim of fake social media accounts what are your advice to our breeders and enthusiast alike?
Bernie Tacoy: I advise buyers to come personally whenever you buy materials so you can choose what you truly want base on your specifications and standards. As per my side, ideally, I don't sell if buyers don't come personally since I want them satisfied or they should find someone on behalf of them to come and visit my farm personally.
Neroe Lee: Can you discuss your principle in cockfighting?
Bernie Tacoy: To me, it is not only gambling or business since it is all in one sport.
Neroe Lee: What is your feeding program consisting of?
Bernie Tacoy: I am more on concentrate base feeding, I keep it at 80 per cent of my feed while platinum power pellets are kept at 20% during the conditioning. The feeding change should always be done slowly and the transition ideally should last more than a month.
Where do most of your fowl go each season? Most of my birds go to my Malaysian buyers since they pay a premium for what they believe are quality fowls, while others go to some people that randomly come asking for help so they can start breeding. A portion of my produce goes to some walk-in buyers since I want them to pick what they want. Honestly, I don't need more buyers since I have enough who pays decently for what I give them in return.
Neroe Lee: With the advent of Stag fighting what trick or tips you can share so our readers can be one step ahead?
Bernie Tacoy: Keep them comfortable and less stress, make them used to crowd noises. To summarize make them familiarized of what they will face-off in the pit and the scenarios that may go with it.
Neroe Lee: What's your advice to those who are just starting breeding chicken?
Bernie Tacoy: Be honest and start it right you can never go wrong with this simple advise it will take you further than you thought if you take it by heart.
Neroe Lee: Does this new digital magazine Purebred Warrior a help for you?
Bernie Tacoy: The world is evolving into digital and change is the only constant thing in this world, I would say it is a big help for the industry as a whole for its continuity in the future. ~PW
---
Disclaimer
Purebred Warrior reserves the right to accept or refuse materials for publication or advertising. Perspectives expressed by the authors and contributors do not necessarily reflect the opinion of Purebred Warrior.
No materials may be reposted or reprinted from this website without obtaining prior written consent from the publisher.
Facts contained in the articles refer only to circumstances when the sport of cockfighting was still legal in the United States. Articles were written with the purpose of recognizing a past American cultural heritage.
No game fowls will be sent to countries where cockfighting is illegal.
Please take note that cockfighting is legal in the Philippines. It is your responsibility to assess whether or not cockfighting is legal in the country where you stay.