Adrian Francisco was born and raised from the province of Aklan, Philippines, back then I've been with gamefowls since I was 8 years old, but in 2007 my family migrated to the United States of America to seek a better life, and the port of entry was new Jersey. It's like impossible to raise any birds from that place reason being is limited space, weather and neighbour is to close. In 2008 we visited Georgia, that time I know that 39-acre land is going to be great for gamefowl. I never think of anything else when we go back to New Jersey but the farm in Georgia. I did try to move in the year 2010, but my parents said: "what are you doing with your life you just wanna breed chickens?" Well, I do understand them because back in New Jersey, I was working in a pharmacy. After three years settling from the states with my parents that was 2013, I took my wife and 2 kids from the Philippines, and that gives me the reason to move out and start my dream on the 21st of March 2013. It was never easy, the beginning was always the hardest of all, limited income and didn't know where to start but I always go back why are you doing it? It's not about the money it's not about fame, but it's for the love of gamefowls.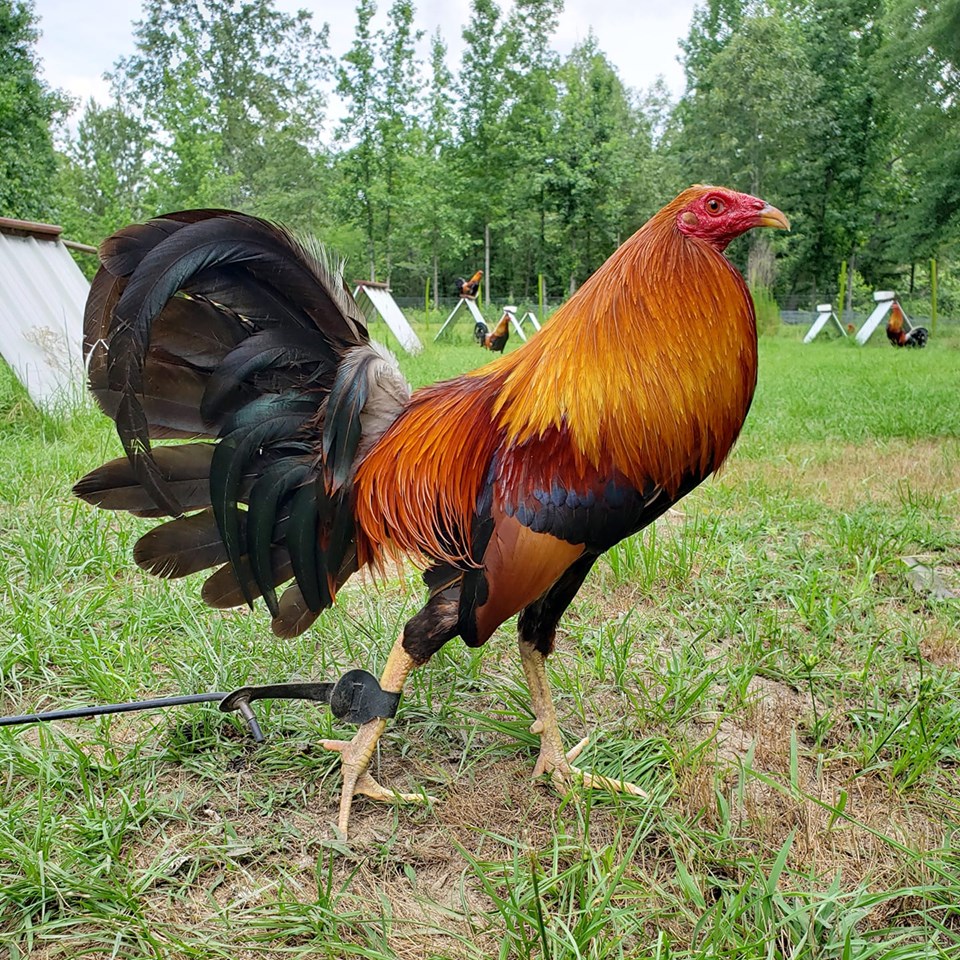 Mhar Delaben: Can you tell us more about you being a breeder and how you make for a living?
Adrian Francisco: I started in the Philippines seriously when I was 17 years old Breeding and fighting my own, but when I moved to the USA I stop for 8 years and I started back when I was 25 years old till now, I grow up Idolizing some of the good Filipino breeders not because they are good but I just like their bloodlines that I can't even afford to buy back then.
Mhar Delaben: How did you start RedCliff Farm?
Adrian Francisco: I got the RedCliff name from real old history in China, and this happened in winter of year 208 AD of Han dynasty when the 50,000 men dominated their enemy numbered 800,000 soldiers, Using strategic attacks and patience of right timing! The war happened in Red Cliff.
Mhar Delaben: How many bloodlines you have and which one stands out? Can you tell us a bit in detail?
Adrian Francisco: I breed Sweaters I got the old lines of old double right from Bruce Barnett; I got the line from two Filipino breeders in Georgia that have them since 2003. They are good cutting birds, all ability that can still be used to infuse or crossed to any right family, and I got the Cash lines sweater too from dink fair 2010 this is the baseline of my (Archer Sweaters) that I made my own. The reason I made my line to avoid people calling me looking for bruce or dink Sweaters. I like putting pride on my Breeding and every feather from my yard I hope someday they would call it RedCliff birds.
I have Radio from Roy Brady line; they are aggressive, fast, accurate cut, powerful and game. The radio is the most favourite and baseline that I have. My radios have been selected Breeding to make them taller, and now they break higher.
My 20grand Kelso is a blend of two 20grand Kelso, JC Allen over bruce Barnett 20k.. well Bruce got his from JC but somehow when you look at them they are totally different in styles, now I would like to think to blend the two families makes them better, they have been good to me so far, my 20grands are aggressive but intelligent, cut and great timing, I like the shape, balance and conformation of their bodies also somehow the oriental blood is still there.
The Roundheads is a gift from my good friend Domingo Casillano of Hinesville GA; he helped me a lot without his roundheads. I think I won't win as I have today. Crossing them to my sweaters is a complete package either in short or long knife they win for us, flying and cutting on the air is their masterpiece and on the ground, you won't see them coming, and it's done. I ask him one time what is the composition of his roundheads he said it's a blend of cripple Tony, Leon Morgan and Lacy.
Moreover, my Hatches is coming from the same guy I mentioned on top; he gave me a pair of old Jimmy east sr. Hatch he call it athlete, the hen looks like a Leiper and the cock looks like a McLean, but I did not breed them for over two years reason being I'm not really into hatches, but when I was looking for an excellent hatch to join the gaff or American style I learned that I have the materials already and I been ignoring them for a long time, now I get some doc Robinson from Mississippi to cross with them to add station, beauty and speed.. now I like to believe that they are perfect for my type of hatch.

Selection is one of the hardest one to perfect before you start you should know what you want. You have to consider looking starting from the beak, eyes, ear, combs, head size, length of the neck breast wings tails and bone structure but the most important is the legs to the back toe, see if you lift it and if it is straight.
Mhar Delaben: How to become a successful breeder nowadays?
Adrian Francisco: For me to be successful in Breeding spending a minimum of three hours a day for 365 a year on your yard, somehow while staying, you would see something is wrong, or something is not right. Be observant and be strict on culling is the other way to be on top. Doing it consistently, you'll see the hard work would pay off, and for that, you would feel so-called happiness.
Selection is one of the hardest one to perfect before you start you should know what you want. You have to consider looking starting from the beak, eyes, ear, combs, head size, length of the neck breast wings tails and bone structure but the most important is the legs to the back toe, see if you lift it and if it is straight. I think that's the advantage of most Filipinos now they are good on selecting good stocks and I'll say they are better than American no offence. Picking my brood cock first he have to be very good on sparring, after the ability, I go on his stations then I will look if his breast bone is straight to the vent bone as close as it gets, I prefer sticking to each other, then I'll check the legs if its straight plus go back to wings I will count the primary feathers. On hens it's like similar as long they are balanced and have excellent conformation there's a big chance I would breed them and try.

Mhar Delaben: In terms of recording, can you share the recording structure of your gamefowl?
Adrian Francisco: Keeping records is one of the most important in this sport; without it, you'll be lost for sure. I keep two record books, one for hatching, date of birth, number of chicks came from that brood pen, markings and remarks, remarks mean how are they bred, example: back to mama, back to uncle, brother-sister mating or single or flock matings, this is one of the things your time would use for sure.
Mhar Delaben: What's the negative side of a gamefowl breeder?
Adrian Francisco:The only negative thing about gamefowl breeding, this hobby surely would take your time for your family.
Mhar Delaben: What is your message to those who just started breeding?
Adrian Francisco: So my advice to those who wanna start, be sure to have your family support you in anything you want to do. Make sure they understand what's the consequences.
Mhar Delaben: What do you think of this new digital magazine called Purebred Warrior?
Adrian Francisco:This Purebred Magazine warrior has been much help to me and others, especially right here in the United States. Everyone knows about the law has been pushing our buttons, and it's not looking to be a bright future for us in any US territories… Moreover, this Purebred Warrior beat the odds of doing this online magazine interview for everyone that still believes in freedom of what we want to do.
Mhar Delaben: Any final message?
Adrian Francisco: To all people that interested in my lines, you can contact me anytime and ask whatever questions you may have. Follow me on my Instagram Red Cliff Farm or message me in Dre RedCliff in FB, or call 706 339 6009 any day and would be glad to help, I'm shipping all over the world. I want to say thank you to Mhar for allowing me to be one of the featured interviews cover Purebred Warrior magazine and more power. Thanks for the support.

Sincerely yours Adrian Francisco of RedCliff Farm Georgia USA.
Thank you for your wonderful time, Adrian, and we are looking forward to more success in the future, and please continue supporting this magazine.
---
Disclaimer
Purebred Warrior reserves the right to accept or refuse materials for publication or advertising. Perspectives expressed by the authors and contributors do not necessarily reflect the opinion of Purebred Warrior. No materials may be reposted or reprinted from this website without obtaining prior written consent from the publisher. Facts contained in the articles referred only to circumstances when the sport of cockfighting was still legal in the United States. Articles were written to recognize a past American cultural heritage. We're not sending gamefowls to countries where cockfighting is illegal. Please take note that cockfighting is legal in the Philippines. It is your responsibility to assess whether or not cockfighting is permitted in the country where you stay.