I started getting curious when I was seven years old about chickens thru my parent's driver, who was into cockfighting then. No one in my family took up the sport, but the chickens my mother kept for her catering business were often a source of curiosity. I would usually separate the kingly ones and make them fight with each other. I had my Talisain when I was nine or ten years old, and our driver wanted it to compete in a topada in a nearby makeshift neighbourhood hack-fight with approval from a police officer because it would be considered illegal and that won my first win ever. Then in my teens, I started a bit of backyard breeding and taking weekend trips to La Loma cockpit mainly out of interest.
In the year 1969, with what started as a hobby, I produced 50 to 60 birds that eventually increased in number annually. I decided to transfer to a one-hectare vacated piggery property, which belonged to my parents in 1971. There I raised over a hundred stags. In the late '70s, when production increased to 200 each year, I moved to a bigger farm that I used to lease in Antipolo. There I stayed for more than 14 years before transferring to my present farm in Tanay.
The farm is open to the public and a subject of admiration not only by local aficionados but international cockers as well. Known American breeders from Alabama, Oklahoma, Louisiana and California have kind words to say whenever they visit the farm. The last couple of years have been busy for breeding. I decided to concentrate on developing and propagating top quality firebird bloodlines to compete in big-time cockfighting, not just to benefit myself, but for other cockers as well. Yes, since last year, I've been sharing my prized game birds to those who are seriously into the game.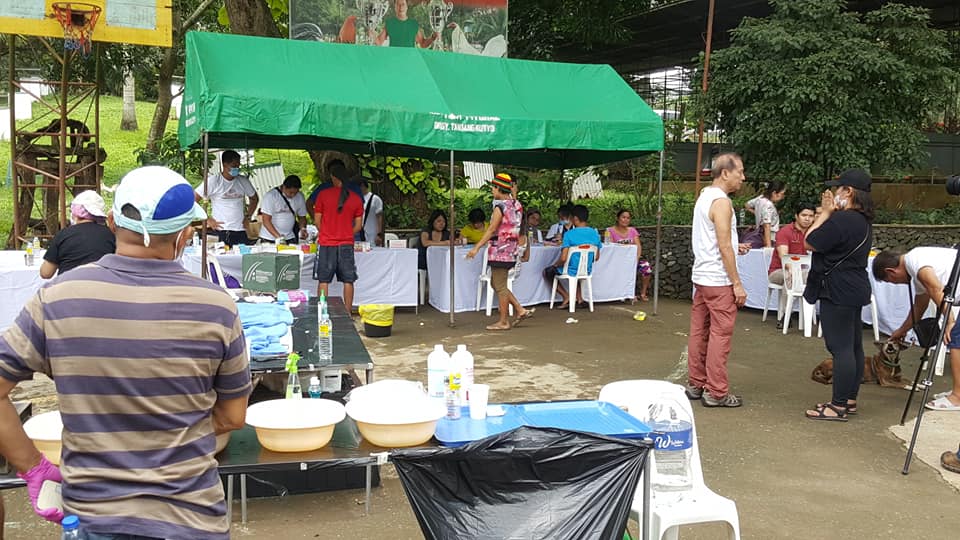 Mhar Delaben: Who is Biboy Enriquez?
Biboy Enriquez: I grew up where my parents still struggling on World War 2 in there business. I grew up as an ordinary middle age family in Quezon City, and through the years, the activity of my parents flourished. I started to enjoy a pleasant and better quality of life. I got involved in the hotel industry business. I put up a small hotel called Sulu Hotel, then two other large hotels, including Puerto Azul beach hotel from where I was a Vice President in operation. I co-founded a beauty contest called Mutya ng Pilipinas Miss Asia Pacific a long time ago.
I also got the franchise of Ms World and held it for 15 years before transferring it to Estella Araneta. One of the hotels I was able to acquire a franchise of Playboy Club. Also, then the Star Gazer Disco through a friend, partner with us Luis Ismail of Star Gazer and then, later on, became a Euphoria Disco. My involvement was more on the limelight. I sold my shares when my mother retired at that time, my brother-in-law and my sister bought me out. So I stayed at Sulu Hotel.
I got stressed because of the labour union. It's challenging to run the business with the undesirable employee and very difficult to terminate them too because the Department of Labor always protects employees. Even though I was very fair to my employees and generous, but on occasion, the employees always win. The only thing that the company has is money. There was corruption involved in the Department of Labor. If the company gains the case, the employees receive nothing at all. Majority of the instances wins in favour of the employees so they can collect money from the company. So this becomes stressful to me, so I retired and put up a four-hectare property farm instead, but before that, I'm into gamefowl since when I was eight years old. I get used to it because of my parent's driver who loves chicken, and he's taking care of them in our backyard, and that where it all started. When I was a teenager, I got some excellent chickens for cockfighting in Laloma, and later on, eventually it grew as I learn the way of gamefowl breeding. I get a chance to know and be friends with Mr Paeng Araneta. He was the number 1 champions in Bacolod and considered to be the guru on this industry even in the conditioning, because of him I learned many things.
I involved in promoting derbies too and became famous as a promoter. Even though I have my entry, I'll make sure that the fight is always fair. Since it is my promotion, I decided not to participate to avoid politics from the participants. Nene Araneta wanted to promote and host the International Derby at the Araneta Coliseum. That was the year 1988 then, and he invited me because he knew that I could bring more crowd, and so I was one of the co-promoter along with Jong Santiago.
Twice a year, each co-promoter can sponsor two American entries or well-known American Cockers, and in that sense, we can draw in more of participants. Since I was in the Hotel business and Sulu Hotel is very near to the venue, all invited cockers stayed there. On the evening, I am asking them all at the cocktail lounge so they can have their pleasure and have some chicken-talk discussion with the other participants. Of course, they can eat and drink all they can. I am sure everyone had a pleasant stay, and I became friends with many!
Twice a year there's an International Derby, and this was they called it before, and now it is World Slasher Cup. That started 1988, and then, later on, I think that was 1992 we set apart, and George 'Nene' Araneta promoted the World Slasher Cup alone. We formed another association called U-Cup, and we also have most of the big players. We have a new cockpit arena in Mandaluyong until these sports grow more significant and more prominent in the Philippines.
My farm is in Tanay Rizal, and it was 4 hectares 27 years ago. The breeding area is in Common Wealth Avenue inside Don Antonio Heights; then the range was in Antipolo when I was leasing a property before. That four-hectare farm gradually grew because I purchased all of the adjacent farms. Now I have a 26 hectares farm and think I still need a few more hectares to make it 30. The growth of cockfighting in the Philippines are unbelievable; it becomes more and more. The demands are too high, and the fights are way more interesting. It's fascinating to watch because of the pot money involve was becoming more prominent and better, and it becomes more exciting to the cockers.
Now, I am happy with my farm together with my 48 employees. To make sure that they are also pleased they are part of the profit-sharing, and by doing so, their sympathy and loyalty remains to me. I provided them with concrete houses with free water and electricity. I am very close to their children and felt like I am part of their family too. They have a recreational area like table tennis, basketball court and now I started to make their fitness gym.
They rub elbows with their constituents when they go to the cockpit, and that's the reason why most politicians involved in cockfighting get more votes during an election.

The production of Firebird Gamefarm rapidly grows as well, this year's production target is about 3,800 harvested, but I was hoping to reach about 4000. Estimated harvest for this year's goal is 3800 males, and around 2300 collected females. I have no idea about the coming years, but we would like to continue to grow as long as my employees are committed and happy. Their loyalty and hard work are essential because they are part of the business. No one to steals or any illegal activities because they are well paid, and their focus and attention are always there.
Mhar Delaben: Do you think cockfight as a sport would end at some point?

Biboy Enriquez: No. I think it will continue to grow to unprecedented levels. There will be a revolution in case the government tries passing a law to ban cockfighting. The people will most likely go crazy with that. I don't think they are going to do it because many politicians in the government are into it as well. They rub elbows with their constituents when they go to the cockpit, and that's the reason why most politicians involved in cockfighting get more votes during an election. I always say that this could prolong your life because when you are on the farm, you force yourself to wake up early, breathe some clean air, and get exercise by walking a lot.
There are also many struggles in this game. Firstly, your breeding materials need to be of top quality and from proven bloodlines of champions. Secondly, make sure your chicks are raised healthy. You need to follow a vaccination program, a feeding guide, and a deworming period. Another big challenge for the starter is when to decide if they are fit for competition. You have to raise them with strong bones and the right balance (of what? Pls state)
Conditioning is a big challenge too, especially when you are scheduled for the fight, which we call "pointing." You have to make sure your gamebird stays sharp during the time of the match. Those are the challenges along with the thrill and excitement that come with it. There will be ups and downs for sure, and the latter will teach you how to accept defeat.
I am a person who can accept defeat and use it as a lesson to be applied in my daily life, in my business, or in whatever endeavour I may want to try. You need to accept defeat in a fight and be humble in your triumph. It is a noble sport where people learn honesty as it is a fair game. Those who cheat in cockfighting will most likely be banned in the cockpit arena. Shame on them because this is a gentleman's sport. In my old age, I meet many people and make new friends because of this most Filipino sport.


Mhar Delaben: How systematic are you when it comes to recording?

Biboy Enriquez: I am very systematic about that, I use female employees to do this task because they are brilliant and meticulous at this. One good example is Ms Robie, she's one of the first lady gaffers, and now she has become famous and is a celebrity. There are about 9 or 10 lady-gaffers currently involved when it comes to tying the knife of the gamefowl, which is good because of there of the participation of females.
Back into my recording, the egg collector is also a female. This is to minimize corruption. It is fun to have female employees. Aside from the coconut juice that they serve to the visitors, they also mingle with them easily. It is annoying to have all males on the farms, but when there are females, you can joke around with them, sharing laughter and having fun.
Females are also born multitaskers. There was this doctor who told me that the reason why the females are good with their hands is that they use both sides of their brains (left and right hemispheres of the brain.) However, for us guys, we usually use only one part. That's why females can do many things at once. Especially when tying the knife, you need to have a right and gentle hand to execute it properly. In the recording, females are more meticulous than men.


I always make three families out of my particular high demand bloodlines in order not to lose the blood. You clone your fighting machines in a way that you want them to fight.
Mhar Delaben: How do you stay humble through all of your success?

Biboy Enriquez: Well, I have been well-grounded from my childhood. I was an ordinary kid playing around in our neighbourhood. I understand how poor people feel and think, as I grew up that way. I haven't changed much since then because this hobby exposes me to all kinds of people.


Mhar Delaben: How many bloodlines are you breeding at the moment?

Biboy Enriquez: Well, if I am not mistaken, I have about ten different proven bloodlines that originate from the states. Once in a while, I still import from other countries. If there are any breeds that I want, I get them via exchange programs with well-known breeders. In return, I give them what they want from my bloodlines. This way, we both improve.
If you are selfish in this industry, most likely you will not rise because you think you have the best. It would help if you had an open mind and a proven bloodline. I do line breeding, inbreeding, and then cross them out. The feeling of becoming a good breeder is just like a good chef. You try to find the best ingredients. I always make three families out of my particular high demand bloodlines in order not to lose the blood. You clone your fighting machines in a way that you want them to fight, and yet fight uniformly too, so that's a big challenge.


Mhar Delaben: Your White Kelso has one of the highest winning percentages, can you tell us more about it?

Biboy Enriquez: Yes, that's right; their colour and blood are so dominant. You see, the dominants, they are the faulty ones, and then they grow bigger. This way, they have better reach – whether they are up or down. They are a bit heavy and brainy as well. It was an accident that it came from a red Kelso, a throwback of a red Kelso. There's one female who turned out white. I was surprised and shocked when this White came out.
I castigated my breeder and asked him if he hadn't made a mistake? He replied that he had no idea at all. I then went back to my records that I had subscribed to from the states a long time ago. Cecile Davis was the farm handler of Walter Kelso in 1956 if I'm not mistaken, there was indeed a throwback white Kelso, and it won a lot for them. Mainly because Kelso has four bloodlines and one of them has white feathers. This throwback is seen now and then.
So I maintained it, and I was able to get another white family from a retired basketball player, Dennis Espino whom he acquired the original imported trio from Patrick Puno who didn't like white coloured game birds. Hence, he sold the trio to Dennis who has been winning with them crossed to his Lemons and other bloodlines. He saw that I have a White and he offered his White to me in exchange for my red Kelso. The rest is history, and my white Kelso is now the biggest winner amongst all of my bloodlines.


Mhar Delaben: Is there any advice you would like to give young breeders who are just getting started?

Biboy Enriquez: Start small, learn the ropes and have the right facilities. They should invest in a good bloodline. That is very important as there are too many mediocre lines around today. You need to have a superior proven cocking ability and gameness of the fighting style. This way, you gradually increase your stock. That's how I did it. Otherwise, with too many expenses, you will get badly burnt when you lose. So, this is what I have to say to the breeders who just got started.
Also, visit some of the farms and be friends with the breeders because they have a lot to share to you. Talk to them and ask many questions. Rest assured they are more than happy to share the knowledge that they have.
---
Disclaimer
Purebred Warrior reserves the right to accept or refuse materials for publication or advertising. Perspectives expressed by the authors and contributors do not necessarily reflect the opinion of Purebred Warrior. No materials may be reposted or reprinted from this website without obtaining prior written consent from the publisher. Facts contained in the articles referred only to circumstances when the sport of cockfighting was still legal in the United States. Articles were written to recognize a past American cultural heritage. No game fowls will be sent to countries where cockfighting is illegal. Please take note that cockfighting is legal in the Philippines. It is your responsibility to assess whether or not cockfighting is permitted in the country where you stay.