PERSONAL INFORMATION
Full Name: Manuel Alfaro
Address: Perris, California
Farm Name: Silvermuun y Alfaro farm CA
Available bloodlines: ***
Favourite motto: It's all about that 362 JTTP362
Mentor: Javier Ochoa
INTRODUCTION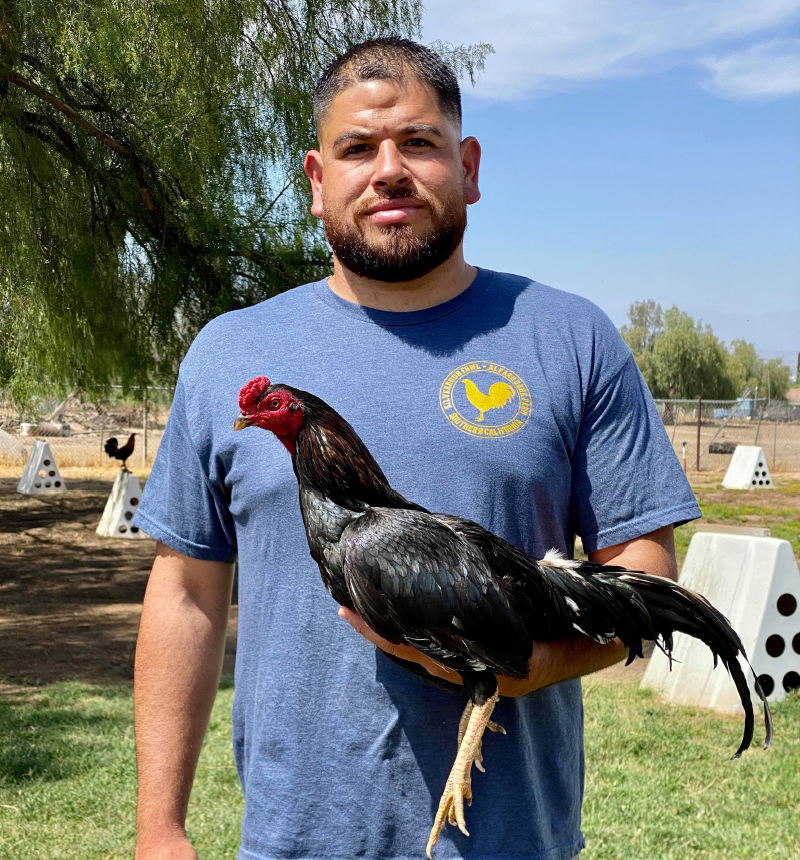 My name is Manuel Alfaro. I have a small farm in Perris, California where I have raised Gamefowl here for about 7 years. For the last 3 years, I have dedicated myself as a full-time cocker.
Q&A Starts:

Can you tell us who Manuel is as a gamefowl breeder?
I'm a big believer in hard work pays off when reinforced with honesty, loyalty and integrity.

How you lived your life as a game farm owner and a breeder?
Passion for game fowl is what drives me. There is always something new to learn in this ever-evolving sport.

How did you get into this sport and how long have you been in this industry?
It was 15 years ago that I became serious about gamefowl, but I was about 12 years old when my father bought me my first gamecock, a little grey from a guy who later became my Compadre many years later. After that, I was bit by the bug.

What is it that you most admire in this gamefowl industry?
The Gamefowl community is really good at rallying together and helping out our brothers in sport, I've seen this on many occasions and am proud to be a part of it.

How do you manage your farm and family?
That's the million-dollar question, I think it's hard to balance both, but it's not impossible. I'm very lucky to have an extremely understanding wife who adjusts the needs of the business. We usually sit down and go over the family obligations as well as the farm needs. She puts them in her calendar and that's kinda how we can create a little balance. When we are in season it's usually much more hectic so we take advantage of the off-season for a little more family time.

What are your best performing bloodlines, and how would you describe each of their ability?
Our main breeds are Black Japs, Silvermuun Hatches, and Roundhead. Black Japs: The Black Japs are my base blood. I've bred these fowl for 10 years. They really bring some great timing and great cutting ability. Once they are crossed to American fowl they make extremely good show fowl. Silvermuun Hatch: these hatches have been bred by my partner Mario silvermuun Ibarra for over 20 years. He has really perfected this breed to be a complete family of fowl. They have all the ability to get the job done, and are the noblest family of fowl I have ever had the honour of feeding. Roundhead: The Roundheads are great cutters and have good timing with power and are very game. They nick very well with the rest of our bloodlines.

What supplements or enhancers do you use during the keep?
I use a few in the keep
1. Opt E horse
2. Super Amintoplex
3. Dedicated liver capsules
4. B12 complex shot weekly

What were your biggest challenges dealing with this farm and fowls?
Health is always the top priority and the most challenging thing to maintain. It requires rigorous and detailed planning that has to be executed on a daily basis.

How systematic are you when it comes to recording?
I try to keep it as simple as possible. I have notes on my phone where I write down all the brood pens by number. I fill in cock info and hen info for that pen. I then transfer the info into an excel sheet where I keep track of the markings and the winning percentages of the breeding.

Is there any negative side to breeding?
It's a lot of work to breed and raise your own fowl, which also come with lots of sacrifice of time and money. It's definitely not for everyone.

How do you train your rooster daily?
I use a rotation method as well as some table work. I believe our boys must be in great health and great shape to feel and perform their best.

Are there any intruders on your farm and destroy any properties you have?
In the first year, I had my farm, stray dogs came in and killed 20 cocks, and injured another 40 cocks. It was an expensive and extremely heartbreaking lesson that called for new fencing, replacement of cages, traumatic, loss of fowl and perimeter walks on a daily basis.

What is the greatest challenge of a breeder?
Maintaining bloodlines, I think is something very challenging but with time it seems to work itself out.

Who influenced you to become a competitive individual in this industry?
I have always been a competitive person, even as a child. I love to compete and really enjoy the growth that comes with winning and losing.

What's your thought about this jealousy roaming around social media?
I think if we focused on our fowl and worried about ourselves as individuals, people wouldn't have time to be jealous of others. There's plenty to go around. Another person success does not equal your defeat. We should celebrate each other's victories.

What bedding do you prefer for your fowl as a daily scratch?
I like to use a mixture of dirt and sand.

Where do most of your fowl go each season?
Most fowl we raise are personal show fowl but some go to Mexico and Vietnam.
Gamecock has its beauty in terms of its colours and stands, How do you maintain the characteristics of the fowl?
For me, of course, I like an aesthetically pleasing gamecock, that is a medium-high station with good bones. We utilize line breeding and some in-breeding methods to achieve this. But what I look for most are the intangibles, for example, in his character and the way he carries himself. The confidence and honour these Gamefowl display is definitely what made me fall in love with them.

What's your advice to those who are just starting breeding chicken?
Do your research, there is so much information out right now that we didn't have access to back in the day. Use that to your advantage and put in the time.

What do you think of this digital magazine Purebred Warrior?
It's an asset to this community that features many great cockers, shines a light on their love and passion for this sport and filled with a lot of tips and information one can actually use and get results.

***Q&A Ends***

Purebred Warrior Journal is an opportunity for every gamefowl breeders across the globe to help establish credibility, build trust and engender goodwill towards their venture. It will showcase not only the exclusivity of the interview but can keep your followers inform, engage and build a reputation on different platforms. PW The Journal is accessible anywhere in the world provided with wifi connectivity, and at any time of day, you can read available interviews at your fingertips in no time. 10+ yrs from now, this PW The Journal will still be available online, and what a great keepsake for every breeder of today that the next generation will still be able to read your story knowing you how you fought well in this gamefowl industry.

Thank you for being part of Purebred Warrior's journey.
Godspeed!

Mhar Delaben
Founder of Purebred Warrior Magazine/Journal

—
Disclaimer:
Purebred Warrior reserves the right to accept or refuse materials for publication or advertising. Perspectives expressed by the authors and contributors do not necessarily reflect the opinion of Purebred Warrior.

No materials may be reposted or reprinted from this website without obtaining prior written consent from the publisher.

Facts contained in the articles refer only to circumstances when the sport of cockfighting was still legal in the United States. Interviews were conducted and written to recognize a past American cultural heritage.

The interviewed breeder whose name mentioned above has fowls sold strictly for breeding and show purpose only. No fowls sold in violation of the Animal Welfare Act of 1976.
---
---