Cockfighting is a noble sports.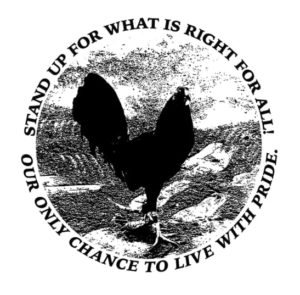 Talking about this profound matter were people already divided into, you will hear a folks talking about the good things and the good fortune happened to them just because of a chicken, while to some of these, people talking about as cruel and vicious, non caring and many more. Every one has its own reasoning and opinion and they are much entitled to do so just like me. You can't just win an argument with them who wished you to be in prison or even die because most of them are selfish, closed minded, jealous and others being paid to do so. If you do have your own principle and by all means that you can stand your ground for what you think is right for all; that's an easy thing to turn them down and keep them quite with conviction and not just to keep them quite but to let them fully understand that the life of a broiler chicken is far from the life of a game cock. But, you were right, you can't pleased everyone no matter how you do good to the community. For me, those who stand against cockfighting is far more cruel and vicious, Why? because they are not educated enough to know about how could this chicken be a great opportunity for a livelihood to someone else or to the market place rather than to themselves; that's a no brainer, this game bird were born to fight and most bred them like a boxer. Imagine this, in the Philippines today, while you are reading this, they are planning to bring this gamefowl industry to the next level. In what sense? Through education. They allocated 2 billion Pesos for this project through TESDA (Technical Education and Skills Development Authority) and if you want to earn 100,000 pesos monthly, by teaching 25 students about this industry, start doing your research and visit the land. A lots of opportunity and many can live a life of their own with great pride and joy to their family… The question is, why in some countries, cockfighting is still illegal? I may not have the perfect or correct answer to this but what I can only say is, there's a bunch of hypocrites and greed in the house (but not all) who easily get blind by power and money. Cockfighting is a noble sports the way I see it in my country and it is indeed cruel and vicious as you think, but there's a poetry in motion.
Let me know your thoughts, cheers!
Your cock-a-doodle-doo-friend,
©Mhår Delaben